So, I've been in a dehydrating frenzy lately. I've bought fresh fruit and frozen fruit to dry. Frozen fruit is easy because it's already pre-cut.. and sometimes you can find several bags of a particular fruit on sale.. that'll give you a ton of snackable, sugar-free fruit for really, really cheap!
I've learned something very important that I'd like to share with you: do NOT dry garlic at the same time as fruit.. otherwise you'll end up with garlic-flavored strawberries. Trust me when I say that it is very, very gross!
So, when my current project - Ani Phyo's raw bread and burgers - are done drying (and they should be by dinner tonight) I'll be making some raw cookies, mangoes, strawberries and corn chips tomorrow! I'm seriously addicted here.
Using the random fruits I've dried, along with a few handfuls of raw nuts, I've made a yummy snack mix! The entire mix is not completely raw, as I've also added some of my husbands favorite goodies: chocolate chips and banana chips. I'm trying to create a healthy alternative to the pre-made snack mix you buy in bags, with sugary fruit and toasted nuts, because my husband could eat that every day!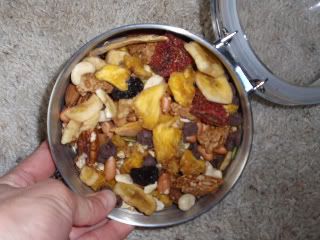 ... yes, it's as beautiful as it is tasty! The pineapple from my previous post ended up having a caramel-pineapple flavor from the agave nectar I added. It's absolutely delicious. (And dried pineapple is my favorite!)
Snack mix
Raw ingredients:
dash of sea salt
dried pineapple
dried cherries
dried strawberries
dried mango
raw cashews, pecans and pumpkin seeds
Non-raw ingredients:
1 nature valley granola bar, broken into pieces
banana chips
chocolate chips
Directions
Just throw together whatever you have on hand. The sweetness of the fruit and the salty nuts really hit the spot. You won't even be able to tell the difference between this and the unhealthy store bought stuff!