Were trying new noodle dishes.. and since we loved the pesto pasta so much we decided to try a sun-dried tomato marinara pasta tonight:
It's very good! (Though next time I'll make the spaghetti that Tyler prefers, which is italian-spiced oily noodles with diced tomatoes. I don't know what else to call it but it's not a smooth sauce, it's more a light noodle dish with italian spices and diced tomatoes on top. You know?)
Anyway, this was very easy to prepare and very good!
Ingredients:
1 c tomatoes, chopped
1 clove garlic
1/2 c fresh basil leaves, loosely packed
1/4 c evoo
juice 1/2 lemon or lime
1 t pitted dates
1 t oregano
1/2 t rosemary
1 t sea salt
3 T sun-dried tomatoes
Mix all ingredients, except sun-dried tomatoes, in food processor or blender until smooth. Then add sun-dried tomatoes and blend until mostly smooth, or to desired texture.
That's it! Just make your zucchini noodles while it's blending or even ahead of time. But don't put the sauce on the noodles until you're ready to serve.
Yum!
Dessert
I also decided to try one of Ani Phyo's fancy desserts: Raspberry Ganache Fudge Cake (with a few substitutions of my own.)
I have strawberries on hand, not raspberries, so I used those. We also don't use walnuts so I subbed almonds. At first I thought they would be too sturdy, too heavy.. but they're pleasantly rich and smooth!
As usual, I halved the recipe:
Ingredients:
Cake -
1.5 c almonds
1/3 c unsweetened cacao or carob
1/4 t sea salt
1/2 c dates
Frosting (I had to make the full recipe b/c the half recipe wasn't big enough to blend) -
1/3 c dates
1/4 c agave
1/2 c ripe avocado
1/3 c cacao powder
Filling -
1/2 c fruit, in this case strawberries
To make the cake, combine nuts, cacao powder and salt in food processor. Blend until still slightly coarse. Add dates and blend until well mixed. Shape into 2 stackable cakes of desired shape and set aside.
Now, make frosting by blending all frosting ingredients until smooth.
To serve, frost top of one of the cakes and layer with fruit (strawberries or raspberries.) I also added another T of frosting on top of the fruit to help the upper layer stick.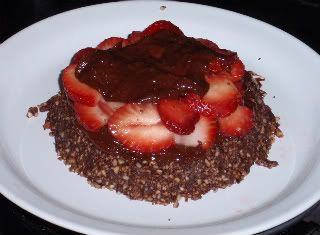 Stack the second cake on top.
Now cover top and sides with frosting.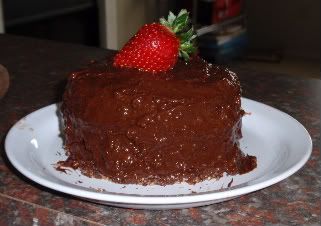 You can serve immediately or put in the fridge for a few hours to firm up. The assembled cake will keep in the fridge for up to 3 days.
I know you can eat this cake immediately as I had a slice right away. WOW! This is half the recipe, so it should make only 3 servings... (the whole recipe, if you doubled the cake ingredients, is said to have 6 servings.. but honestly, I think it has a lot more!)