Breakfast:
Raw pb&j, anyone? Well, technically this is an ab&j (almond butter and jelly).. but you get the idea. I just used a slice of our amazingly yummy toast and topped with nut butter and fruit!
Tyler, who isn't doing the raw challenge, got 100% natural peanut butter and jelly, topped with fresh strawberries: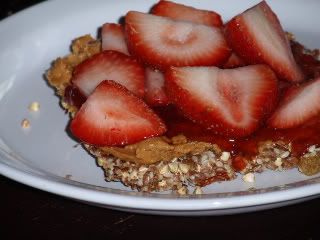 Since these are open-faced sandwiches, I decided to squish my fruit and add some agave nectar so it would be more like jelly. That way I don't have to fight with my fruit to stay on top:
Lunch: salad, as usual! Sadly, my avocado was not as ripe as it should've been. Too bad... ripe avocados make me happy!
Dinner: raw hummus and corn chips
Ingredients
1 1/4 c sprouted chickpeas
up to 1 1/2 c water (depending on how wet your chickpeas are)
4 T tahini
1 t cumin
juice from 1/2 lemon
1 clove garlic, minced
1/2-1 t sea salt
1 T olive oil
at least 1 t cayenne, jalapeno or your favorite spice
Toppings
ground cilantro and/or parsley
paprika
FIRST STEP: This is very important. You must do this step or you will have bitter, awful hummus. Bring a few cups of water to boil, then remove from stove. Let it cool a few minutes, then put your chickpeas in the hot water for 1-2 minutes. Drain immediately and rinse with cold water. This removes the bitter flavor.
Now, simply grind chickpea ingredients in blender, adding only as much water as necessary, until smooth.
We placed our hummus on a plate, forming a hollow space in the middle. Fill with yummy olive oil. Be sure to sprinkle a large amount of your favorite spices on top. What a beautiful presentation!