The key to being healthy is to have healthy foods at hand. Agreed? That's simple enough.
So, to ensure I don't succumb to any cooked cravings this month in my transition to raw, I've decided to have an excess of raw snackables around! That means corn chips, granola (I've got a recipe I want to try this weekend) and snack bars. Of course, as I find the recipes we love I'll be making enough to send with my husband to work, too. Bonus!
So, I tried Ani Phyo's orange-spice bar recipe.. and it was fun to make, actually. Just be prepared for sticky fingers!
Syrup ingredients:
1 c pitted dates
1 med orange, peeled and seeded
up to 1/2 c water, as needed
Crust ingredients:
1 c oat groats
1 c each: pecans, cashews
1/2 t grated nutmeg
1 t ground cinnamon
Filling ingredients:
1 large orange
2 c pitted dates, chopped
3 T water
Make syrup by blending dates and orange until smooth, adding water as needed. Set aside.
Make crust by finely grinding your oat groats into oat flour. Next, coarsely chop nuts in food processor. Add oat flour, cinnamon and nutmeg. Pulse until mixed. Add syrup until mixture holds together. (NOTE: This recipe makes way too much syrup. In my attempt to use it all I added too much to my crust mixture and had to add oat groats to the mixture when making the top crust. That's why you'll see whole oats in my bars. Ani's recipe would actually give you a smooth, oat-flour texture without the oats.)
Use half the crust mixture to make the bottom half of the bars. You will be using the rest of the mixture as topping.
To make filling, zest orange and set aside. Now put orange (deseeded and peeled) into food processor with dates, zest and puree until smooth. Add water until mixture blends enough. Do not overwater! Now spread this mixture over the crust.
Sticky, sticky!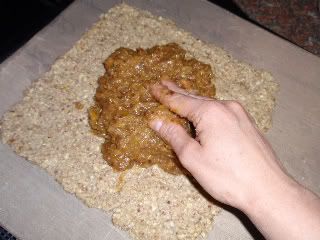 To serve, crumble remaining half of crust over the top. Press it down a bit to compress and smooth out crust.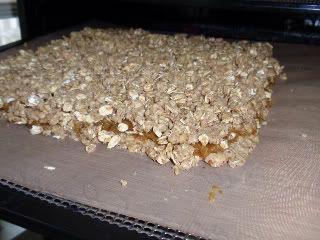 Serve immediately or dehydrate for several hours at 104 degrees until desired texture is achieved. I dried mine overnight, then sliced into bars, removed from teflex sheet and turned over onto mesh dehydrator tray for just a few hours. I wanted moisture to remain in the bars so I didn't totally dry them out.
They smell sooooooooo yummy!