Chocolate, chocolate, chocolate.. my husband is a choco-holic, so I'm preparing lots of chocolate goodies for his birthday. (You know, I never thought I would EVER say this.. but after being around chocolate all day, making all of these yummies.. I honestly don't want to eat any! haha)
At least I started out the day with a filling and healthy meal! And I wasn't even hungry for lunch. Weird.
Breakfast:
A few pecans
1/3+ cup buckwheaties cereal
handful goji berries
1/3 cup fresh blueberries
A few dates, chopped into small pieces
small handful sunflower seeds
A lot of my fresh mylk (It was grrrrrrreat!)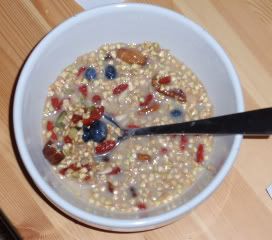 Dinner celebration:
Chocolate date bites
Chocolate covered peanut butter balls
Chocolate covered cherries
Peanut butter chocolate pies
Some of the things I dipped in chocolate:
To make peanut butter balls and the crust for the peanut butter pie I simply de-shelled a bag of raw peanuts and ground them in the coffee grinder. Now, add just enough water to make them sticky. That's it! If you prefer a sweetier or stickier peanut butter you can always add a little oil or raw sugar to the mixture.. but I wanted these to be simple. And they were great!
My favorite has to be the easiest of all - remove the pit and insert a raw almond into your dates. Voila! I'm telling you these are easy and so fantastic.. even before they were dipped in chocolate.
To make dried cherries you just remove the pit and stem - then dehydrate! I love, love, love dried cherries.. and they are so easy to make.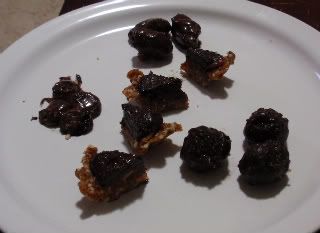 The fanciest part of the feast has to be the peanut butter chocolate pie (that tastes kind of like snickers, especially the second day!):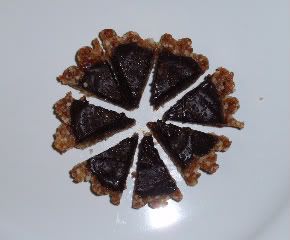 I didn't add any dates to the crust of this pie.. I just smooshed the peanut butter I made into my little 3" tart pans, that I lined with plastic wrap for easy removal. Make sure your crust goes up the side of the tart pan and is open in the middle, for your fillings. Now put in the freezer while you prepare the rest of the pie. I made 3 tart crusts.
Filling:
10 dates, sliced into small pieces
1-2 T raw agave nectar
Remove crusts from the freezer. Mix filling ingredients well and separate into the three tart crusts you've made.
Topping:
1/2 c cacao powder
3 T agave
1 T oil
dash of salt
Mix the chocolate topping - this is a VERY rich recipe - and smear on top of all 3 tarts. Now put in the fridge to harden.
Use the remaining chocolate mixture to cover your peanut butter balls, cherries and dates! **I ran out of dark chocolate so I also made a lighter chocolate mixture (using more agave in the chocolate to thin it out) and dipped the remaining dates and cherries in the light chocolate. I do not have cacao butter so my chocolate wasn't solid and they were very sticky! It didn't matter.. we had lots of fun licking the chocolate off of each other. Very romantic! :)