Okay, I finally made the yummiest raw banana split!
Step 1: Make your raw ice cream. Blend (in a blender preferably, or a food processor if you're lazy like me): 1/3 c soaked raw cashews, 1/3 c raw sugar/maple syrup/agave, 1+ t vanilla.
Pour your raw ice cream mixture into ice cube trays. Freeze.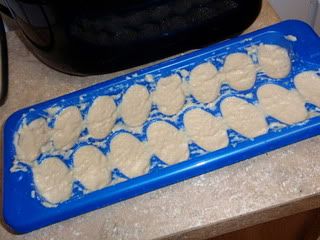 Step 2: When you're ready to make your banana split, get your toppings ready first.
Chop your fruits, add agave nectar and let sit.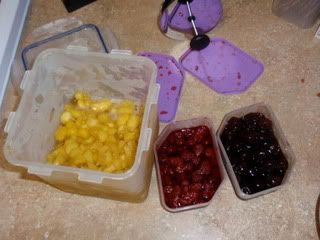 Mix your chocolate syrup: oil + agave + cacao powder. (See earlier posts.)
Gather your toppings: buck wheaties, goji berries, raw cacao nibs (or chocolate chips, if you're like my husband and you're a choc-a-holic.)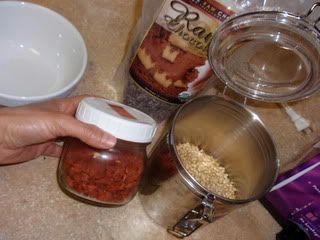 Step 3: Put your raw ice cream cubes into the food processor. Add a spoon of water or two. Blend under smooth.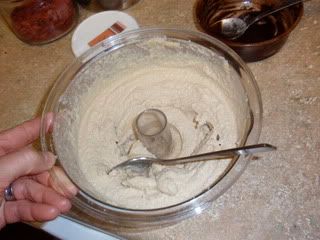 Step 4: Put your banana splits together! Just something we found out: using all the raw ice cream cubes between two people make HUGE banana splits. So, I hope you're hungry!
Layer your bananas, ice cream and toppings: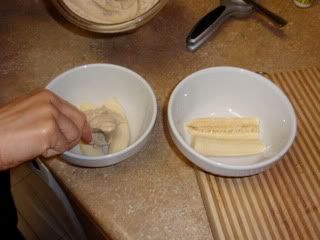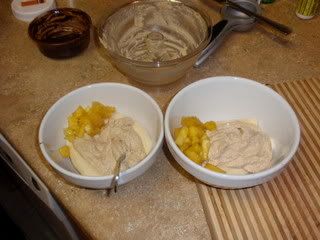 This really takes less time than you think it does. If you keep some frozen ice cream around all the time, it's easy to put together.
YUM!