This salad is GREAT! I should've tried this one sooner. I'm loving it.
Salad ingredients:
At least 1 c each shredded red and green cabbages
At least 1/2+ c bok choy, cut how you like
1/2 c cilantro
1/2-1 c mung bean sprouts (if you have them... we didn't, unfortunately)
1/4 c hemp seeds
Dressing:
no more than 1/4 c cold-pressed olive oil
1-2 t cold-pressed sesame oil
2 T agave nectar
1 large clove garlic, minced
1+ red thai pepper minced (I used a few.. probably more than my husband prefers! ha)
1 t minced ginger
1 t sea salt
NOTE: I bought a bag of dried peppers and ground them in the coffee maker. I loooove spicy food, so this is something I keep on hand.
First, mix the dressing by hand and set aside.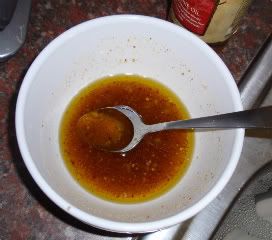 Now cut your veggies for the salad.
Put your dressing on the salad and let it marinate. See how easy this is???? If the dressing is too strong, just add more veggies to the salad.
Sushi ingredients:
1 c pecans
1/2 c sunflower seeds
1/2 c almonds
2 T onion powder or minced onion
1/2 c parsley
Juice of 1-2 lemons
1 T garlic powder
2 T Nama Shoyu
2 T cold-pressed sesame oil
Plus, sliced veggies of choice
While your salad is marinating, cut your sushi veggies. I used avocado in the sushi and also added it to the salad. (If you haven't noticed.. I add avocado to everything!)
Throw your sushi-rice ingredients into the food processor. Blend until chunky. This really takes less than 5 minutes!
Now make your sushi. Put (about) 2 T rice mixture on the raw nori sheet. Cover with veggies and roll. That's it!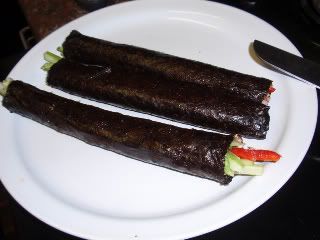 Slice!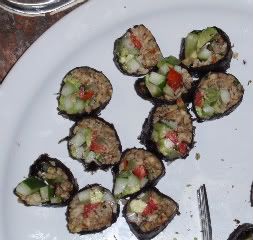 This salad and sushi are a great meal!