I am so tired of making the same foods every day! We make tons of salads (which I actually love but I know Tyler is getting bored with) and of course, raw mexican food because it's so dang easy. So, starting today we're branching out to Asian and Italian foods. I've been wanting to do this, anyway.. I've just been toooooooo lazy.
So here goes!
Raw sushi
Pate:
2 Cups Pecans
1/3 Cup Minced Red Onion (I did not use very much onion and I only used onion powder)
1/2 Cup Chopped Parsley
2 Tablespoons Lemon Juice
1 Teaspoon Garlic Powder
2 Teaspoons Nama Shoyu
2 Teaspoons Cold Pressed Sesame Oil
Other ingredients:
Sliced veggies - avocado, bell pepper, celery
Sprouts
Raw nori rolls
We spent the weekend in Tulsa, OK (the closest large city to us) and of course we spent a ton of money at Whole Foods. Hey, we rarely get to shop at such an awesome grocer. I freaking love that place! Though I sure wish I had bought more raw nori. Dang. At least we'll be stopping in Dallas in October, so I can pick up some more then. We bought tons of raw nuts, seeds, spices, oils, goji berries, sugar. Yay!
So, luckily I had all of the ingredients for some yummy raw sushi (including cold-pressed organic sesame oil and raw nori.)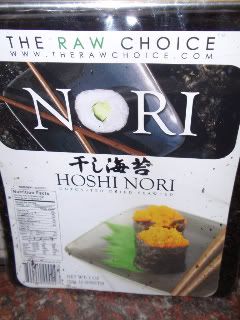 I saw this recipe on gliving.com and decided to try it today. WOW. I will definitely be making raw sushi on a regular basis now. (Tonight we're trying zucchini pasta with pesto.. I can't wait!) Back to the sushi..
My knives are unbelievably dull so I left the sushi in a large roll and dipped it as I ate. It tastes just as good! :) I actually quartered the recipe so I could just try it first. Now that I know I love it I can make a whole batch and keep the pate in the fridge for up to a week. Then I can throw together the sushi whenever I want. I think this will be key to eating more diverse raw meals!
Directions:
Put your pecans in the food processor. Blend into small pieces. Then add all of the other ingredients and pulse to mix. That's it!
Use your sushi roller. Place one piece of nori on the roller. Spread about two T of pate on one end. Put your sliced veggies across the pate. Now just use your roller to make the sushi! Slice or eat as-is.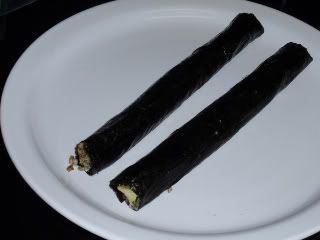 I made two rolls using a quarter of the recipe.. and I ate them both for lunch, along with raw snow peas on the side. I dipped those in the soy sauce and also used them to pick up the yummy stuff that fell out of my sushi roll as I ate. What a great meal!
So... while I love the idea of being raw 100% of the time.. I've decided that Nama Shoyu is so hard to get where we are that it's just not worth it. Honestly, I don't see how it can be much better for you than soy sauce. They're both just salty sauces. So, until I learn otherwise.. I don't mind using regular soy sauce, since we can actually buy that here.
DINNER
Delicious Pesto Pasta
I'm using their photo because mine came out fuzzy. Oops.
This pesto is so delicious and SO easy to make! This is a great dish to make after a trip to the farmer's market, where you can pick up bunches of fresh spices for really cheap.
Pesto ingredients:
3 c fresh basil
1 c pecans
5 cloves garlic
dash sea salt
up to 1/3 c olive oil
First, blend your pecans in a food processor until it's all small chunks. Then, add the basil, garlic and salt. Blend again. This time, add oil as needed to make it mostly smooth. You still want some chunks but you want it to be sauce-like as well.
NOTE: Using a blender will make a smoother pate.. but I wanted some chunks in my sauce, so I used the food processor. This would make a great veggie dip or great in lettuce wraps, too!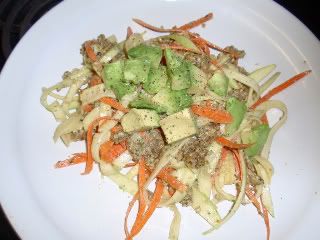 Toss with zucchini and carrot pasta! I even added 1/2 of a fresh avocado to each of our pastas. It was great!
To make the pasta peel the zucchini and slice both the zucchini and carrot. I used our mandolin on its thinnest setting. We have a very simple mandolin that only slices, so after I made several slices I would just stack a few together and slice into strands. Voila. It was so easy.
I actually made my zucchini and carrot strips first, then smeared them with a tiny bit of olive oil and left them to marinate. I have never made veggie pasta before and I wasn't sure if they would be soft and noodle-like or crunchy like fresh veggies!.. I have to say, this is absolutely delicious!.. the best noodles I've had in a long time!
My husband couldn't stop saying how good it was. He loves this dish, so that's a relief. Yep, this is a recipe we'll repeat in our house! Tomorrow - I'm making zucchini pasta with marinara. Yum!