I am so excited today! I received my Ani Phyo's dessert and raw food kitchen books. I have to say, she's a genius in the kitchen!
I decided to attempt the bread recipe, since that's one of the main things that is keeping my husband from being mostly raw. He's a bread man. So, hopefully this will taste as wonderful as it looks!
Changes to recipe: I'm trying to get used to onions but I just don't like them!.. so I used only about 2 t chopped onions. I also used pine nuts because I didn't have sesame seeds. If you're looking for this recipe in her cookbook or website, it's the "Pine Nut Sunflower Bread" recipe.
Ingredients:
1 c ground flax seeds
1/3 c whole flax seeds
1/2 t sea salt
1 clove garlic
2 t onion, chopped (she called for 2 T)
1 1/3 c water
2/3 c sunflower seeds
1/4 c pine nuts (the recipe called for black sesame seeds)
Directions:
Mix ground and whole flax, salt, garlic, onion and water. Add sunflower seeds and pine nuts and mix well. I used my food processor to break up the pine nuts after I added them.. her recipe said to just mix the ingredients in a bowl, not a processor.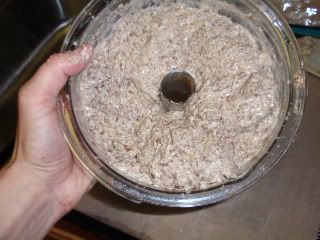 This dough is very solid.. and the longer you let it sit, the thicker it gets (as anyone who has used ground flax can testify to!) So spread it around right away.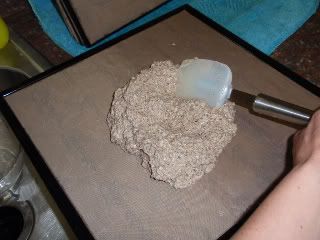 Spread evenly on one dehydrator tray. (This recipe fills one Excalibur dehydrator tray, so I know exactly how much to spread around. How easy!) Dry at 104'F for 4 hours. Flip and score bread into 9 slices to make it easy to break in straight lines. Dehydrate another hour before serving. Serve warm. (**She also says that she travels with this bread. She brings it on trips, then she just buys an avocado or other veggie and has a sandwich on the road! What a great idea.)
They've only been in the dehydrator a half hour so far, so I don't have anything to report on the finished product yet.
I love this uncook book!