Breakfast:
In a food processor mix 1 ripe banana and about 5 strawberries and blend until smooth and fluffy. I sliced 1 plum and added a handful of buckwheaties, pecans and almonds. Voila!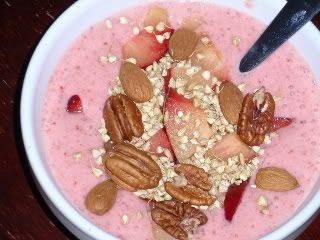 Brunch:
Raw chips and nacho cheeze! As I mentioned, Ani Phyo is a genius in the kitchen.. her nacho cheeze recipe is knock-your-socks-off yummy! I only made half the recipe, just to try it.. but now I wish I had made at least an entire batch! NOTE: I substituted cashew and pine nut because my husband can't eat macadamia.
Ingredients
3/4 c cashew
1/4 c pine nut
juice of 1 lemon, about 2 T
1/2 T braggs
1/2 T turmeric
2 t cayenne (I used double the amount she called for b/c I love spice)
up to 1/2 cup, but use as little as necessary
Blend all ingredients except water. Add a little bit of water as you blend and scrape down sides of processor. Blend until smooth! Will keep for 3 days in the fridge. I can't wait to put this on a sandwich!
I also sprinkled red pepper on top: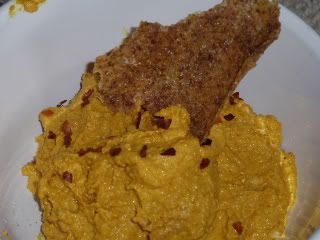 Not hungry for lunch... had an orange-spice bar before pilates. Then another snack bar after pilates! Plus, a handful of dried pineapple. Yum!
Dinner:
I like simple dressings. Until today I had been using about a T of a balsamic vinaigrette on my salads. I am a salad fanatic. I have them everyday, at least once. But tonight I wasn't sure what kind of dressing to use.. If I didn't figure anything out I would've just squeezed a lemon or lime on top of my salad and sprinkled it with salt.
So, what I ended up doing was putting half of my avocado on the salad and the other half in a bowl. I squeezed half of a lime into the bowl and squished the avo+lime into a gooey dressing. YUM! After pouring it onto my salad I even squeezed the rest of the lime on the salad, too. Have I mentioned that I love freshly squeezed lemon and lime? I do!
I also added: tomato, cucumber, sesame and sunflower seeds.
OH, I almost forgot! I made some portobello steaks. I altered the recipe a bit (since I was out of Nama Shoyu).. but all I did was marinate the baby ports in olive oil, braggs, salt and cayenne. I let it marinate while I make the salad.
Honestly, the braggs smell was new.. though, the more I eat, the more I like!