Thrown, dropped, mutilated, and ground-up alive. This is the shocking reality faced by hundreds of thousands of chicks each day at the world's largest egg-laying breed hatchery - Hy-Line International in Spencer, Iowa. New hidden camera footage obtained at this facility during a Mercy For Animals undercover investigation gives a disturbing glimpse into the cruel and industrialized reality of modern hatcheries.
BEWARE: Baby chicks ground-up alive in this video! We may be able to look away but they can't avoid the terror.
www.mercyforanimals.org/hatchery/
In an attempt to boost post-summer lagging sales, the chicken industry has declared September as "National Chicken Month." Sadly, billions of chickens are raised and killed for human consumption each year in the U.S., many of whom suffer from crippling leg disorders due to intensive genetic selection for extremely rapid growth rates.
COK sees "National Chicken Month" as a great opportunity to shed light on the industry's cruel, yet standard, practices and to encourage people to choose compassion by leaving chickens--and all other animals--off our plates.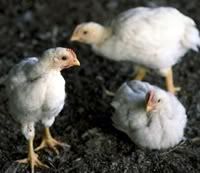 Get involved!.. for the animals AND for your health. WE ALL DESERVE BETTER.
www.cok.net/feat/national_chicken_mo
nth/