If you're serious about making raw breads, I suggest grinding several cups of flax seed and keeping them in the fridge at all times. You can also keep whole flax as well.. you'll use them both in most raw breads, chips and probably dessert recipes. Plus, you'll get your fancy schmancy omega-3's!
Preparing for my 30-day raw challenge that begins tomorrow I decided to put together some more raw bread-y foods: corn chips and croutons.
I found a corn chip video online and thought they knew what they were talking about.. their magic combination is 10:1 corn to ground flax, with optional lemon, salt or other seasonings added (just remember to add a touch of ground flax to compensate for any fluids you add.)
CORN CHIPS
Ingredients:
5 cup corn
1/2 c + 1 T ground flax
juice of 1/2 lime
I do not have a vitamix I decided to process these ingredients in my food processor. They weren't totally blended but I don't think it's going to be a problem. The dough was quite easy to spread and felt smooth to the touch.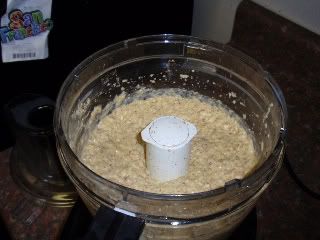 I've never made raw chips before but I hear the trick is to spread the batter very thin. Thicker batter = bread, thinner batter = chip. Makes sense, right? I tried to spread it thin but I didn't want it to be too thin.. I guess the only way to find out is to experiment!
The great thing about raw food is that your food always looks different! Your chips aren't evenly sliced to be exactly the same as any other. The texture is different every time. Your mouth is always experiencing something new! And let me just say, YUMMY! I will definitely make these all the time now. I've got containers on the counter that are specifically for chips now. :)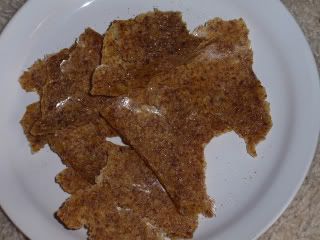 CROUTONS
Because I'm in love with my new raw toast, I decided to adapt that recipe to make a savory crouton. They smell and taste fantastic! The only problem is that the dough ended up being too crumbly.. it didn't hold together like the toast. So, next time I'll just make sure the dough is stickier - probably by adding ground flax. Either way, I can still crumble the crouton bits onto the salad. They add great taste AND crunch.
1/2 c buckwheat groats
1/2 c flax seeds
1 c water (plus up to 1/4 if necessary)
1/3 c diced sundried tomatoes
2 T dried oregano
1 T dried rosemary
1 t garlic
1/2 t salt
Combine all ingredients in a bowl. Let sit for 20 minutes to become sticky (from the flax.)
Spread out on teflex sheet. This is a half recipe so it will only fill half of an excalibur tray, depending on how thin you spread your batter. Dehydrate 3 hours. Flip onto mesh tray. Score your dough into crouton sized pieces. Dry up to another 6 hours.
Store in an airtight container. Use croutons and crumbly bits in wraps, on salads.. anywhere!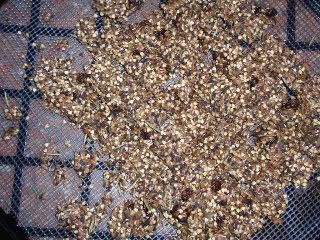 YUM!