I read about raw foodies drinking smoothies every day. I guess I'm not just much of a smoothie person.. but I'm going to try to be. I know they're really good for you and help you digest everything in your smoothie. I know, I know. So, here's what I'm doing to try to get used to it...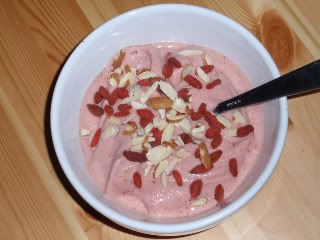 I've been making very smooth bowls of fruit smoosh. It's basically a very thick, very smooth smoothie! One batch could probably feed two people, as it makes two full bowls, but I usually eat the whole thing! Don't worry.. it's guilt-free!
I fill the small bowl in my food processor with frozen bananas and strawberries (mostly bananas.) I let it thaw for about a half hour before blending it into a fluffy, smooth, creamy bowl of goodness. Then, blend it completely. Sometimes I have to add a dash of water - just enough to keep it blending! Do not add too much. I fill my bowl and top with random dried fruits and nuts - this time, goji berries and sliced raw almonds. Don't forget to put the remaining smoosh in the freezer while you eat the first bowl. It won't freeze solid while you're eating the first bowl but it will remain solid.
YUM!! You will love it! Plus, the smoosh is so cold that it freezes the fruit and nuts so they become very crunchy. I make this one all the time now.