I think that knowing I can only use raw food ingredients in my recipes has really opened my eyes! Now, when I want to make something - whether it's sweet or savory, snack or more filling - my thoughts immediately turn to wholesome, raw ingredients. It's becoming second nature!
And ever since I saw Ani Phyo make a peach cobber with raw pistachios, I've been on the hunt to find them. Pistachios have to be the yummiest nut ever. I could eat them everyday... and now that I found raw pistachios, I just might!
Serves 2
Crust ingredients:
1/2 c raw pistachios
1/2 c dates
Filling:
2 organic fuij apples
at least 2 t ground cinnamon
2 T agave nectar
THIS IS SO EASY!
First, I put the crust ingredients into the food processor and turned it on.
While the crust was blending I sliced my apples pretty thin. Each of us got one whole apple per bowl. I sprinkled lots and lots of cinnamon onto the apples and smeared it around with a spoonful of agave nectar (approximately.)
As soon as the crust was ground into small pieces I just poured it directly onto the apples.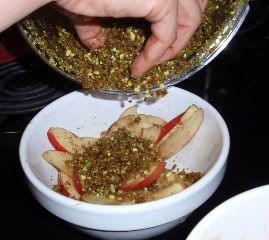 OH MY WOW! Of course, this would work with raw oats as well.. but we have been eating so many oats lately that I wanted to try a nut covered cobbler. Yum!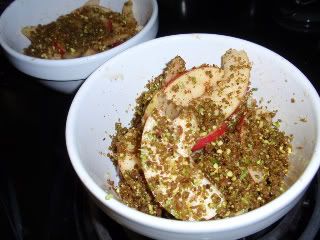 I made another batch of the always-yummy, B12 enriched kale by smearing olive oil, a little nutritional yeast and sea salt all over each piece. **I've noticed that even in raw food cookbooks there are dishes made with maple syrup or nutritional yeast .. I assume it's because they aren't bad for you and probably more because they have a nutritional quality about them that makes small quantities okay - or even good for you. And I think adding a little B12 to your diet, even a dedicated raw food diet, is a good idea. Plus, it makes tasty, cheezy kale chips!
I experimented with cashew butter kale today.. all I did was scoop out some raw cashew butter (oh yes, this is fun and messy) and smeared it all over the kale! It doesn't get much easier than this!
These chips are super crunchy and very good! I don't know how to explain the flavor.. kind of nutty but not overly so. The cashew butter has a very light flavor to it. I think next time I'll try with raw almond butter and see how those turn out, too!
What are your favorite kale chip flavors??? Share!!