This is another great one that I adapted from gliving.com. The recipe says this serves 6 but I don't know that it does.
These corn tortillas are super easy to make! Just throw all of the ingredients in the food processor and blend until mostly smooth. Separate onto two teflex sheets. Dehydrate 4 hours at 115 degrees. Then, turn over the sheet and gently peel away from the sheet onto the mesh. Dehydrate for another 1-2 hours until completely dry on both sides but still pliable.
INGREDIENTS
3 c fresh corn kernels, freshly shaved from the cob
1 med-large red bell pepper
3/4 c golden flaxseed, finely ground
1 t lime juice
1 t ground chili powder
1 1/2 t sea salt
2 t ground cumin
The instructions tell you to cut out circles and add the edges to salads or eat as a snack.. but I just cut them into squares. Each teflex sheet made 4 square tortillas.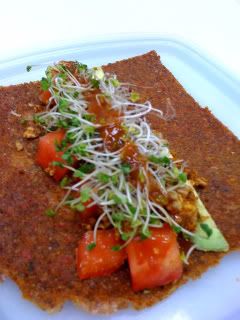 Thanks for the photo, Jimmy! (Whoops, I used some extra taco bell sauce on top. Everything else is raw, though!)
Serve with raw taco meat, sprouts, tomatoes, lettuce and avocado! You could even make some raw sour cream!
RAW TACO MEAT
1 c pecans
1/2 c sunflower seeds
1.5 t cumin
1 t chili powder
3/4 t coriander
2 t Nama Shoyu (or soy sauce or Bragg's)
1/2 t jalapeno (or your fav hot spice)
3 T water
optional: 1/2 t celtic sea salt
Pulse, pulse, pulse until chopped up - but not blended. (NOTE: Tyler said he'd prefer it with a few more T of water. But I think the choppy-ness of these was perfect. So try it this way, then if you don't like it add a few T of water.)
RAW SOUR CREAM
1/3 c cashew butter (I used less than if I were using my own soaked cashews)
1/8 t salt
1/2 t apple cider vinegar
juice of 1/2 small lemon
1/2 t agave
1/8 -1/4 t acidophilus powder
*water, as needed to consistency
All I had to do was add a little water to thin it out. Wow, it's fluffy and creamy! I let it sit out for an hour (or a little more while we made dinner).. voila!