I love squeezing fresh lemon or lime into my water. Sometimes, I'll drink a gallon a day! You know these citrus fruit have more vit-c than oranges, so drink up!
During the summer we get fresh mint at the farmer's markets. That's when I love fresh mint lemonade (or limeade!)
INGREDIENTS
Citrus (lemon or lime)
Agave nectar or raw sugar
Handful of fresh mint leaves (discard stems)
You can make it one of two ways:
1) Hand-crush your mint leaves and throw them into your lemonade, or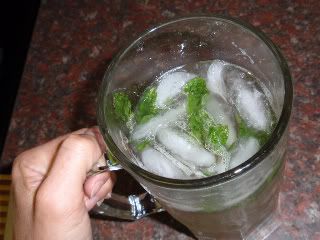 2) use a blender to crush your lemon/lime pulp and mint leaves. They're easier to drink and will probably make a stronger mint-ade!