Now that my wonderful hubby got me a personal blender for my birthday I can whip up raw dressings in a flash! Here's my experiment from last night. (One of the great things about this blender is that I can make extra dressing and just put a lid on this plastic jar to have tomorrow!)
DRESSING
1/2 avocado
About 5 blackberries
Dash of agave (because my berries were super tart, not sweet at all!)
Squeeze of lemon, lime or water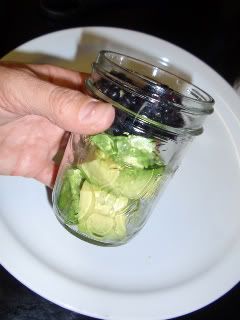 Blend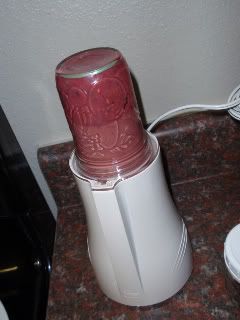 Pour onto your salad! Be sure to add some fruit to your salad, too.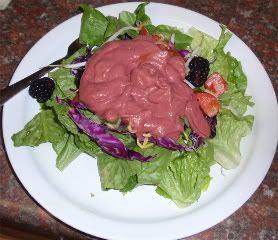 Yum! Oh, so creamy!
The only thing I didn't like about this dressing is that I was afraid I was going to spill it everywhere! Maybe blackberries weren't the right choice.. or maybe I'll just make sure my veggies are cut smaller next time.
Options to try: adding mint, parsley or cilantro, using raspberries instead of blackberries.
I was inspired to make this because we love raspberry vinaigrettes! Of course, I didn't add any vinegar to this recipe - so it was actually more like a creamy, fruity dressing. That's why I think adding an herb would actually be good! I wonder what it would taste like with a little apple cider vinegar next time...