I love pistachio pesto. In fact, we have it several times a week now. I try to keep all the ingredients, including fresh zucchini and definitely fresh basil, on hand at ALL times. But don't you hate it when you reach into the fridge and find your basil is all wilted or slimy? This happened to me the other day - but I was already in the process of making the pesto - so I had to think of something...
Here's what I did!
Rather than using the 1.2-2 c fresh basil that the pesto recipe calls for, I had to think of something dried to use, because I didn't have any fresh herbs at all. Ugh. I wasn't sure what to use!.. So, instead of using an herb I actually used about 1.2-1 teaspoon of balsamic vinegar. I know balsamic vinegar isn't raw and supposedly not-healthy either, but I absolutely love it!
I did have to add a little water to the pesto to have to blend well enough without the basil added... success!
Of course, nothing compares to basil pistachio pesto.. but in a pinch, it worked! I ate it with purple cabbage noodles (because they're spicier than green) and ended up eating the rest of the pesto with celery. I even added chopped tomato on top of the pesto. mm mmm good!
INGREDIENTS
1/2 c pistachios
2-3 garlic cloves
1/4-1/2 c cold-pressed olive oil
balsamic vinegar to taste
salt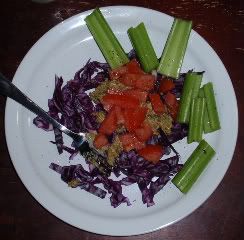 Don't forget to finish it off with your favorite salad toppings!