I don't know why but the last 2 days I have been craving chocolate like crazy. Yesterday we had the rest of our strawberries dipped in a chocolate sauce.. so today, looking for something for filling, I decided to mix the chocolate with almond butter and enjoy it with an apple. YUM!
For the sauce just mix equal amounts of raw agave and cacao powder. It probably won't mix very well, so add some olive oil to help it mix.
Now, place the chocolate sauce on your plate with some almond butter.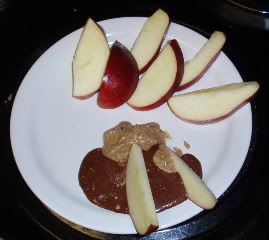 Slice your apples however you like.. and enjoy!