I was hungry last night but didn't want to make anything fancy.. so here's what we had! (We also had some edamame first, which wasn't raw.. but it sure was good.)
For the wrap, you must have at least 1/2 avocado per person.. the hungrier you are, the more avocado you should have.
Serves 2
1-2 avocados
bell peppers, red, yellow or green (we had several small ones)
mung bean sprouts, or your favorite sprouts
2 roma or 1 large tomato
one head of butter lettuce or romaine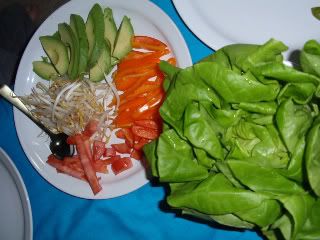 It's so fast and so so so yummy! And because you're using avocado, you don't really need a dressing. We didn't use any.
OR, if you want an even more filing wrap or you don't have as many veggies on hand.. make a raw pate (like the pistachio pesto I love on pasta) and have that with your veggies in the wrap. You can't go wrong!
If you need more liquid, keep a juicy lime on hand to squeeze on your slices. YUM!