Can you believe??.. at least 157 children have been killed or severely injured by chained dogs in the last 4 years?
IF YOU:
a) want to create a safe environment for your children,
b) want to improve the lives of these isolated, neglected dogs,
c) want to help but don't have a lot of time or money or
d) love to walk or want to exercise more...
then we NEED YOU!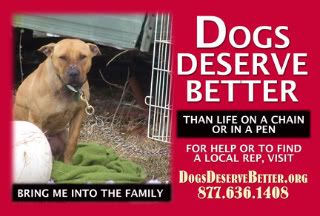 DETAILS
I'll supply the flyer information and instructions on how I go about this. All you have to do is print and pass them out in areas where you see chained or penned dogs. Yes, that's it! So, grab your walkman or a friend, and start walking.
See how easy it can be to help animals?
ABOUT US
Dogs Deserve Better, a purely volunteer organization, has been working to end the cruel treatment of chained and penned dogs nationwide. With your help, we can do it!
Would you for one second choose to live the life of a chained or penned dog? Of course not. No matter what reason is given, the bottom line is that it is NOT ok to chain a dog for life. Dogs should not have to live chained or penned as prisoners, yearning for a place in a family, craving acknowledgement, respect and love. They DESERVE BETTER and we as caretakers have the obligation to provide it for them.
For more information ON HOW YOU CAN HELP ANIMALS IN YOUR NEIGHBORHOOD, CITY AND STATE contact me at ArkansasAnimals@gmail.com or go to the website dogsdeservebetter.org to read more about this wonderful group!
Sorry that I haven't posted many new recipes lately.. I've found several that are in my regular routine (with lots and lots of sushi lately!) so I haven't really experimented much in a few weeks. And I haven't even had many salads, either! You know, I actually miss them. :)
More recipes coming soon... thanks for reading about DDB!