Have your oats, dates, freshly ground cinnamon, agave nectar and optional chocolate chips and/or cocoa nibs ready.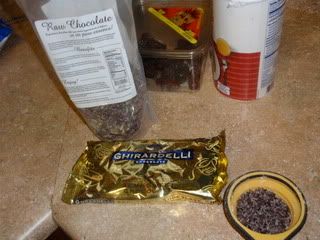 (The oats in the photos are NOT raw.. but a friend bought them and left them here, so I'm using them.)
Measurements are approximate as you'll determine how much agave nectar to add based on how dry your batter is. But start with this:
1/2 c oats
1 c oats
1 c dates + 3 dates
4 T agave nectar
2 t freshly ground cinnamon
OPTIONAL: cocoa nibs or chocolate chips
In a food processor, grind your first 1/2 c oats into a mostly-fine powder.
Now add your dates. Grind for a while. It doesn't need to be perfect. In fact, you can leave a few of your squishiest dates out to mix by hand.
Now add the remaining ingredients - except the cocoa nibs or chocolate.
Blend in a food processor until you form a dough. If it's too sweet or wet, add some oats. If it's too dry and not sticky, add some dates or agave nectar.
Raw cookie dough: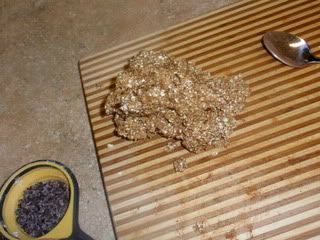 I separated the batter into 3 piles - one for plain oatmeal cookies, one to be mixed with chocolate chips and the other to mix with cocoa nibs.
Form into cookies. You can see I hand mixed in some additional oats to the chocolate chip and plain cookies. When I'm introducing people to raw cookies I make them sweeter so I use less oats to dates. But if someone is more of a raw foodie or has less of a sweet tooth, you can add more oats to taste.
Voila!