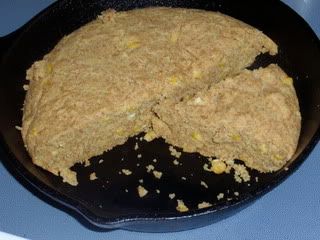 I used the postpunkkitchen's corn bread recipe - but changed a few things. I halved the recipe because it fit perfectly into my medium/small iron skillet.
INGREDIENTS
1 c corn meal
1/2 c whole wheat flour
1 t baking powder
1/4 t salt
1/6 c olive oil
1 c soymilk
3 T maple syrup
1 t apple cider vinegar
Get your ingredients together:
Make your buttermilk first by mixing soymilk + apple cider vinegar. Whisk and set aside.
Mix flours + baking powder + salt in a separate bowl.
Now, add oil + maple syrup to the buttermilk mixture.
Add wet to dry ingredients. Whisk well.
Be sure to shave an entire ear of corn into your batter!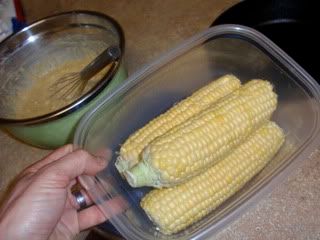 Preheat oven to 350 degrees. Pour batter into med/small cast iron skillet. Bake up to 30-35 minutes. Watch until it's done to your preference.
This is the BEST CORN BREAD ever!