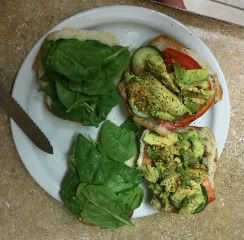 Buy the best bread you can find. Break can make or break your sandwich, you know. So go to a bakery - or make your own. You won't regret it!
SERVES 2
1 ripe avocado
Lots of fresh spinach or your favorite dark green leafy veggie
1 medium ripe tomato, sliced
Cucumber, sliced
Balsamic vinegar
Olive oil (optional)
Freshly ground pepper
Best salt - my new favorite, Himalayan Pink Salt
So easy and SOOOOOO good....
Layer your veggies, top with vinegar, salt and pepper. Add some oil if you want. Olive oil is good for you. Don't be afraid of healthy fats!
We eat these all the time.