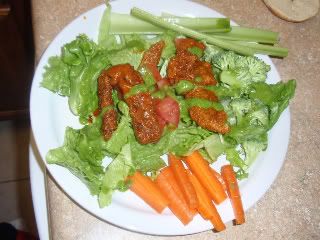 YUM!
We used PETA's vegetarian starter kit recipe for the breading. Get yours here: http://www.petaliterature.com/VEG297.pdf
RECIPE
You'll need a 1lb package of seitan.
Breading:
1 t salt
1/2 t onion powder
1 t garlic powder
1 c wheat flour
4 T nutritional yeast (optional)
3 T yellow mustard
1/2 c water
2 T baking powder
Hot sauce:
Olive oil or margarine
Louisiana hot sauce
Dash salt
Goddess dressing:
1/4 c cold-pressed olive oil
juice of one juicy lime (or lemon, if you prefer)
about 1/4 c parsley (just break off a handful, rinse and throw into the blender)
1-2 t garlic
1-2 t onion powder (it calls for chives but I don't have any.. I bet they'd be good, though)
1-2 t nama shoyu
Put your breading ingredients together. Thaw and pat-dry your seitan just to remove excess water.
Dip seitan into your breading mixture.
Fry! (We all know how to do this, right?)
Place on towel to remove excess oil. Then, dip into your homemade hot sauce. Smother it. It's goooooood.
Make your salad with whatever ingredients you have around the house and top with seitan!
We also used our homemade goddess dressing. But you can use a store bought variety if you want.
You'll LOVE this!