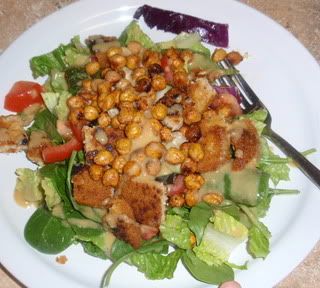 I added a boca chik'n patty to each of our salads, mostly because we were running low on lettuce and I was trying to bulk it up a little. But it was a great combination!
INGREDIENTS
Roasted chickpeas
Boca patties (one per person)
Salad: organic lettuces, lots of tomato and cucumbers
On the side: cornbread (see previous post for best cornbread ever!)
Tahini dressing
TAHINI DRESSING INGREDIENTS
1-2 t tahini
2-4 T olive oil
up to 1/4 c water (more water for thinner dressing, less for thicker)
squeeze 1/2 lime
dash nama shoyu or soy sauce
garlic powder
onion powder
You can mix this dressing by hand:
It turned out GREAT! Just taste it before you pour it onto your salad. That way if you don't like something about it you can adjust it to your own taste.
Enjoy!