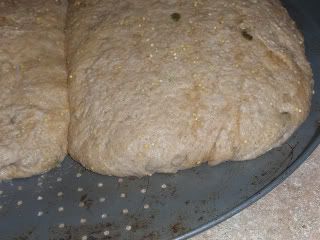 All I did was alter the 'outrageously easy big bread' recipe from vegweb.com.
It really IS easy!
INGREDIENTS
2 packets of yeast
1/4 c warm water
2 c hot water
3 t sugar
1 t salt
5 c flour
1/3 c oil
1/2 c millet
1/4 c raw sunflower seeds
1/4 c raw pumpkin seeds
DIRECTIONS
Put warm water and yeast in bowl. Do not stir.
Now mix hot water, sugar and salt in large bowl. Stir until dissolved. Then add 5 cups of flour, seeds and millet. Add oil and yeast/water mixture to this and mix well.
Dough should be sticky.
Place dough in bowl and cover with warm, damp cloth. Let rise for 45+ minutes.
After you've let your dough rise for 45+ minutes, divide the dough.
Knead the dough.
Then place the dough onto the cooking pan and let rise for another 45+ minutes.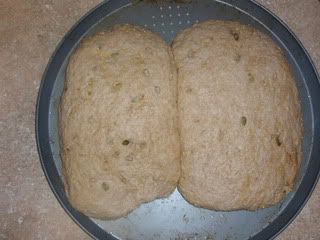 Preheat over at 375 degrees. Cook 23 minutes exactly.
YUM!