These are my new favorite dessert!!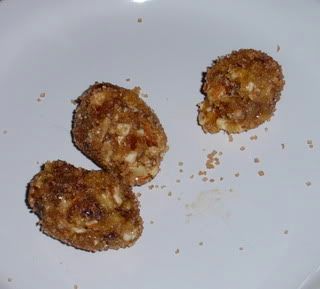 I saw this on Ani Phyo's website. I can't believe it took me this long to try it. WOW. These will definitely become a regular dessert in our house.
You can see her video here and I'll post my directions below for you, too.
www.youtube.com/watch?v =LuGjDagUWNg
INGREDIENTS
1/2 c almonds
1/2 c freshly dried, chopped pineapple
1/2 c pitted dates
1/4 t vanilla
pinch sea salt
raw sugar or coconut
I halved Ani Phyo's recipe just to try it. . but honestly, if there are several of you or you're having a party feel free to double or triple this recipe! They are seriously the best dessert I've had in quite a long time. Yummmmmmy
There's something about fresh pineapple that makes the best, sweetest desserts. So, here goes. I dry my own freshly chopped pineapple. It's just better that way!.. and you can find a post about that in my blog somewhere if you want.
These are SO simple! Just put all of your ingredients (except the raw sugar) into the food processor.
Blend until mostly chopped.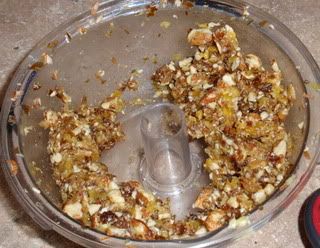 Seriously.. isn't this dough beautiful? Your food is alive and healthy - and you will be, too!
Roll your donut mixture into balls. Then, simply roll around in the sugar and serve.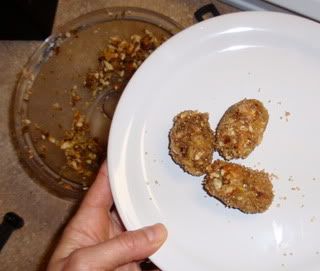 Ani Phyo rolls hers in coconut.. but I hate coconut. So I decided to roll the donut holes in raw sugar instead. I know, I know.. raw coconut is infinitely better for you but I just can't eat it. So, roll yours in your favorite dried topping - whether it's coconut, raw sugar or even crushed raw nut pieces.
These donut holes made one satisfied husband!