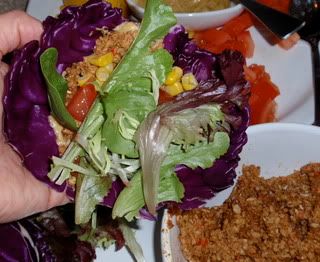 I wanted dinner in a hurry.. so here's what I did! I made a quick, cheese-y cashew butter and smeared it inside some wonderful red cabbage (my favorite.) Topped it with whatever veggies I could find in the house - and we made some raw taco meat (see earlier post.) It was so easy.
That's it!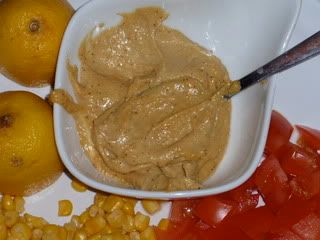 INGREDIENTS
2 heaping T raw cashew butter
1-2 T nutritional yeast
dash of: cayenne, salt, pepper, cumin (use your favorite spices)
Blend ingredients in a personal blender and voila! Instant dinner!
*If you want it to have that cheese-y or yogurt-y tartness, you could make it before hand and cover with a cheese cloth until it sours a little. You can even speed-up the process by adding a little bacteria (I've used acidophilus before) and letting it sour.
Tyler liked the cheese at first (with his baked chips) but thought it needed to be more sour so that's what I'll do next time. Great idea!