RAW the UNcook book has more than one cheeseburger recipe.. but I don't have a juicer (yet).. so I'm making the first burger recipe this morning. I've got flax crackers that I can use for the buns or even cabbage - which I love using as bread. It's beautiful AND yummy.
Cheese Burger #1
INGREDIENTS
1 c raw cashews, soaked
1 c raw almonds, soaked
1 c portobello mushrooms, chopped
1/2 c grated carrot
1 T white miso
1/4 c minced onion
2 T Nama Shoyu or 2 t Celtic sea salt
1 t coriander, ground
2/3 c seaweed water or vegetable juice
dash: curry, paprika, ginger
Directions:
in a food processor, puree nuts, mushrooms and carrots. Then, add remaining ingredients and puree. The recipe says to form into 2 4-inch patties on mesh dehydrator sheet. Dehydrate 8 hours at 90'F. Now, top with cheese slices (see previous post for 'yummy raw sandwiches') if you want and dehydrate another 2 hours.
NOTE: This recipe made like 8 patties, not two.
Layer your burger with all the yummy extras you enjoy. I only wish I had a ripe avocado right now. Add mustard, ketchup, tomatoes, pickles, cucumbers, lettuce, cabbage or whatever you like.
The only thing that could've made this better was if I had made the raw toast a little differently. It was actually good!.. but crumbly. I'm sure that's just because I used the extra buckwheaties I had on hand, rather than the sprouts that it called for. I'll correct it next time.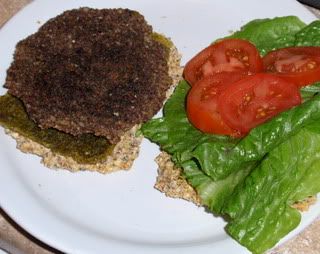 But the burger - and the cheese - were both SO YUMMY!
Enjoy!