I love, loves, love Ani Phyo's raw donut holes. I know, I know, they're not donut holes. So what! They're fantastic. I've come to the conclusion that raw foodies have to give their creations names that cooked-food people will recognize so they'll try them.
You'll regret it if you miss these!
I ran out of my dried pineapple (we eat it so quickly) that I had to experiment with my next batch of donut holes. Seriously, we can't get enough. So, here's what we did:
INGREDIENTS
1/2 c freshly dried fruit
1/2 c raw almonds
1/2 c dates (your choice)
Dash of vanilla - either 1/2 bean or 1/4-1/2 t
1-2 t maple syrup
pinch of sea salt
See the previous post for Ani Phyo's original creation using pineapple. YUM!
I measured 1/2 c of the dried fruit I had left - strawberries, papaya and some pineapple. Beautiful, right??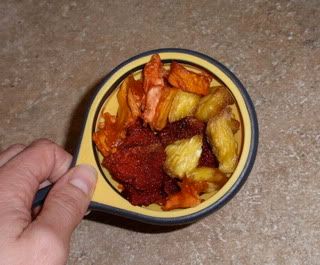 Mix all the above ingredients together in a food processor and chop until chunky. Then, roll yours in your favorite topping: dried coconut, chopped nuts or raw sugar.
Voila!
We usually devour Medjool dates everyday but I wanted to try something different this time. That's why we used Deglet Noor dates. They aren't as sticky or moist as Medjool so we also added a little maple syrup to the mix.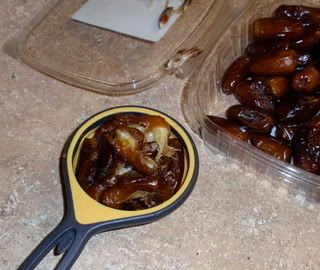 Endless combinations!
I dare you to eat just one. You can't!