Adapted from Ani Phyo's ice kream sandwich recipe! First, you'll make the lime ice kream, then the easy cookie crust.
Cashews really do taste like dairy ice cream!
Serves many.. This recipe makes 3 large ice kream sandwiches. One sandwich is big enough to share. Try this once and you may find yourself doubling or tripling the recipe!
INGREDIENTS
1 c raw cashews
1/4 c freshly squeezed key lime juice
zest of 2 key limes
1/8 c raw sugar or agave nectar
1/8 c cold-pressed olive oil or coconut oil
1/4 c water (or a little more, as needed to makes smooth)
Blend all of these ingredients together until smooth. Pour into a square dish and freeze. Try to choose a dish that is shallow. You can also line dish with plastic wrap before pouring in the ice kream. That'll make it easy for you to slice your frozen kream into bars and remove from the dish.
Freeze for 3+ hours before cutting into bars.
Now, make the cookie crust when you're ready to make and serve your ice kream sandwiches!
INGREDIENTS
1 c dates
3/4 c walnuts or pecans or your favorite nuts
1/4 c cacao or carob powder
1 t mesquite powder (optional)
1/8 t salt
dash of water, as needed
Blend all of these ingredients (except water) together in food processor. Only add water once the ingredients are blended and only if you want the cookie crumbles to blend more. Add a dash, blend. Test the texture and add a little more water if needed.
Now, form your cookies into the same shape as your ice kream bars. I used the lid of the container that formed my ice kream to make the cookie part of the sandwiches. Then, I laid the ice kream across the cookies and sliced to be the same size.
Voila!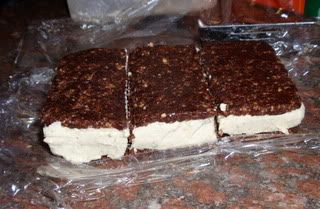 Turn into sandwiches. Wrap with plastic wrap or in plastic containers. ENJOY! You can roll the edge of your sandwiches in your favorite crumbled, dried fruit or nut or even cacao nibs.
Next time I want to try a vanilla ice kream with chocolate chips. Sounds yummy.