From Ani's Raw Food Kitchen
First, make your nori roll pate. Serves 2.
INSTRUCTIONS (Ginger Almond Pate)
1 T ginger
1 clove garlic
1/2 t sea salt
1 c cashews (her recipe called for almonds)
up to 1/4 c water
Throw all pate ingredients, except water, in a food processor and blend to desired texture. Add water as needed to create a sticky texture.
Roll in your nori with mung bean sprouts, celery and other veggies if desired. Try avocado, bell pepper or your other favorite ingredients.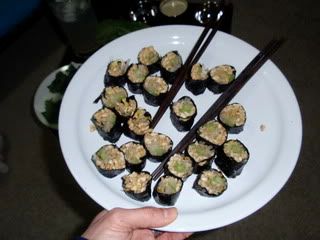 Now, make your Thai dipping saue.
INGREDIENTS
1/8 c olive oil
1/2 T nama shoyu
2 Thai red chilies
1/4 c raw almond butter
juice 1/2-1 lemon
up to 1/3 c water
Blend! Add just enough water to make it creamy.
Let your dressing settle while you cut your spring roll ingredients: zucchini, mung bean sprouts, basil, cilantro and mint leaves, extra crushed Thai chilis.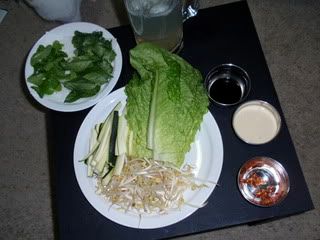 Serve!
We had three small bowls for dipping with: nama shoyu, thai dipping sauce and one with crushed red peppers. You can pre-wrap the spring rolls .. but we like to make our own. So, just layer the zucchini, herbs and sprouts in your wrapper (we used romaine lettuce but Ani Phyo's recipe uses collard green leaves.) I'm sure the spring rolls would be great with any green wrapper you can come up with.
Enjoy!