You can make home-made bruschetta in just a few minutes. Make it as oily or low-fat as you like!
Ingredients for 6 bruschetta slices:
5 small tomatoes (or 3-4 roma, or 2 large)
1-3T olive oil
1-2 cloves garlic, finely chopped (to taste, really)
1/4 c fresh basil, finely chopped
Dash or more of balsamic vinegar (this really made the dish!)
Vegan cheese (try Teese!)
Directions:
Mix ingredients (except the vegan cheese). Let marinate:
Lightly toast sliced bread on broil for 4 minutes. Open oven.
Now, pile your toppings onto the slightly-toasted bread:
Use a little (or a lot) of vegan cheese. Cook on broil until melted! (Takes 5-10 minutes)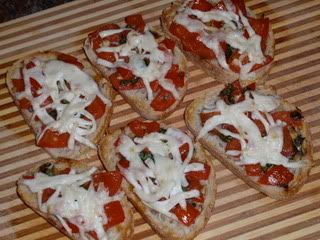 Enjoy!