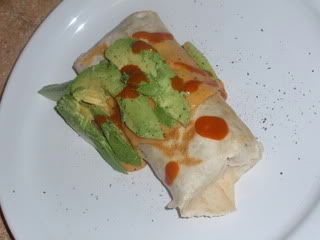 I had a few veggies lying around that I wanted to use. And they went together perfectly!
SERVES 2
WRAP:
2 tortillas (look for a tortilleria in your town!)
1 new potato
Handful of sliced cabbage
Head of broccoli, sliced small
Half block of tempeh
1/4 c black beans
Veg worcestershire
Soy Sauce
Water
1 avocado to share
SAUCE:
Chreese mix
Water
Cayenne spices
Hot sauce (optional, to sprinkle on top)
First, slice your potatoes small and cook in cast iron skillet. Add water to help steam. Cook until done.
While that's cooking, break apart the tempeh with your hands. It falls into nice sized pieces. Cook in another cast iron skillet with a little olive oil, soy sauce and worcestershire sauce to taste.
Mix your finished potatoes and tempeh together.
Use one of your skillets to water stir-fry the broccoli and cabbage for a few minutes. Then, add all of your ingredients together.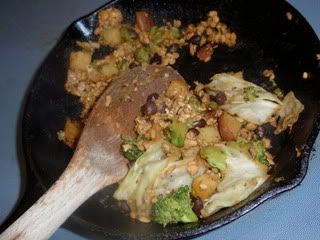 Mix chreese sauce according to directions. Just make about 1/2-3/4 c of sauce for the two of you. Add a little less water than called for to make a thicker sauce. Or thin it out. It's really up to you. BUT DO NOT FORGET the cayenne spice. It makes the sauce SO much better.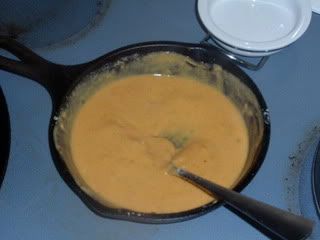 Put your wrap ingredients into the tortillas. Grill on a low-medium setting until brown on all sides.
Serve with spicy, chreese sauce and freshly sliced avocado and hot sauce on top.
Chreese + avocado + hot sauce = YUMMMMMMMMM