These are GREAT! We like sweets - but not traditional sweets you buy at the grocery store. Those pre-packaged things are full of bad ingredients, not to mention WAYYYY too much sugar.
We use natural sugars and less than is usually called for.
INGREDIENTS
Cupcakes:
1 1/2 c all-purpose flour
1/2 c whole wheat flour
2 t baking powder
1 t apple cider vinegar
1 1/2 c almond mylk (pre-made or make your own with handful of almonds and water blended)
1 t vanilla
1/3-1/2 c raw sugar
Dash salt
Handful of chocolate chips (optional)
Icing:
Dates
Water
Splash of vanilla
First, put dates into blender. Squish down. Add just enough water to cover and let sit.
Mix mylk + apple cider vinegar. Let sit for about 5 minutes. Meanwhile, put dry ingredients into bowl. Mix. Add mylk mixture to dry ingredients. Stir until blended. Add chocolate chips.
You can see that I don't have the equipment for cupcakes, but I don't let that stop me! I just used my cast iron skillet and lined with cupcake papers.
Fill with cupcake batter.. if you don't eat it all first! This stuff is seriously yummy.
Bake at 350 for up to 20 minutes, or until cupcakes fluff back up when you push down lightly with your finger.
Let cool.
Blend icing and smear onto cupcakes. (We left some without icing - and they're great, too!)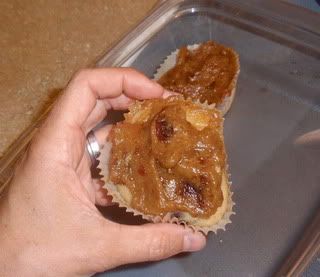 Enjoy!