Do you eat salads? Do you even like them? I say, if you don't like salads it's just because you don't make them right.
You read that right.. there is a right way to make salads: use random, fresh ingredients, add raw nuts on top and don't forget some spices and a light dressing. Sounds simple, right?
Here's one of our main dishes. We eat this ALL the time: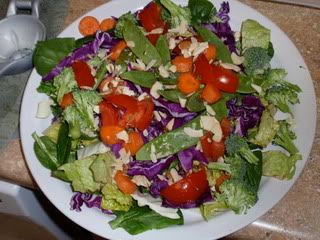 Fresh veggies: organic romaine, freshly sliced red and greed cabbage (this is important!), spinach, freshly sliced organic carrots, tomatoes and whatever else we have lying around - from snow peas to fresh green beans. And always have an avocado. YUM!
Don't forget to keep raw nuts in your fridge. We use cashews or sliced almonds almost every time:
You can use a packaged dressing but be sure to read your ingredients! Never buy foods with artificial sweeteners, partially- or hydrogenated oils or anything you don't understand. *Artificial sweeteners cause migraines. I haven't had a migraine since I gave up diet soda and anything else "diet" about 4 years ago.*
Easy (mostly) raw dressing:
Just get a tiny mixing bowl and add a few T of cold-pressed olive oil (or your fav raw oil), a dash of garlic powder, onion powder and as much balsamic vinegar as you like. I love it! Mix with a fork and pour over your salads.
You're getting healthy fats from your raw oil and raw nuts that will keep you full and healthy!