There's a secret to stir fry: hot skillet and cold oil and water. Follow this rule and you'll want to make stir fry every day!
INGREDIENTS
veggies: cabbage, carrots, celery, broccoli and snow peas
soy or teriyaki sauce
dried red peppers
tofu or seitan, your choice
brown or wild rice
DIRECTIONS
Cook your rice. For two, 1 cup rice + 2 cup water. Bring to boil then reduce to simmer. Cover and cook for about 30 minutes.
Heat up your cast-iron skillet. When it gets hot, put a T or so of oil in the skillet (olive oil or sesame works well.) Now, add 1/8 - 1/4 c water. Now, throw in your harder veggies like carrot and cabbage. Put a lid over the veggies. (NOTE: My lid doesn't even fit but it covers most of the veggies and it works well enough.) I learned this from Dr. Fuhrman's Eat To Live DVD. Now, let them cook for a few minutes. Remove the lid and stir. Put the lid back on, keep cooking.
Now, add your other veggies and red peppers. You can add a little more water if yours evaporated. Just keep the veggies in the skillet moist, steamy and hot.
Water stir fry: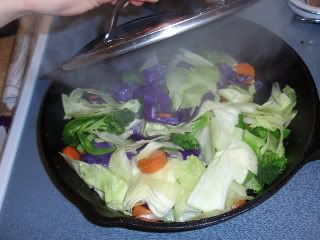 Just remember, you want to make a LOT of veggies at once. They will shrink when you cook them. Seriously. We have to cook a HUGE skillet of veggies just for the two of us. A wok would hold more veggies for more people.
Meanwhile: squeeze the water out of your tofu. Then saute:
Stack your rice, veggies and tofu onto your place. Add a little soy sauce. It's SOOOOO good and so easy.