If you've never tried a tofurky feast, you're seriously missing out.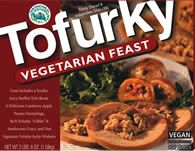 Out of season, you can get them as low as $20 and they're only like $26 around the holidays. That includes the tofurky with the best stuffing you'll ever have, awesome cranberry dumplings and mushroom gravy. You add veggies to the roast, baste them while cooking and you'll have meals for days! Make mashed potatoes and salad and you seriously have a feast.
One feast can make up to 4 scrumptious meals for us.
INGREDIENTS
baste ingredients: 1/2 c orange juice, 1/4 c soy sauce, 1/4 c water
veggies to put in the roasting pan: carrots, celery, new potatoes or your favorites
new potatoes for mashed potatoes
salad ingredients
DIRECTIONS
Thaw your tofurky or use the directions to cook a frozen one (you have to cook it for 3.5 hours.) Remove the plastic wrapper on the tofurky.
Make your baste by adding 1/2 c orange juice, 1/4 c soy sauce and 1/4 c water. Make more baste if you use a large pot and need more juice. You can make a lot of yummy veggies this way! Now, place the tofurky in a slightly-tall pot or oven-safe bowl. You don't want it to be too big.. but you do want it to be tall enough to hold extra veggies and baste to cover them.
For a frozen tofurky place it in the oven at 300 for 2.5 hours. Then, turn over the tofurky and veggies in the broth. Cook an addition 45 minutes to an hour. (You can turn the temperature up near the end if you want a darker tofurky. Just keep an eye on it.)
We've never used this baste recipe before.. but it made the best tofurky ever! It was unbelievably moist.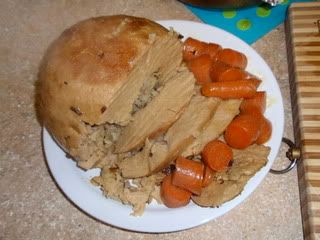 The feast also includes 8 awesome dumplings. All you have to do is boil them for 4 minutes, then cook them in a skillet until brown on both sides.
We've had 3 meals so far and will finish it off tonight! We each get one dumpling per meal. Then, we either have the roasted veggies or mashed potatoes and salad on the side.
THIS IS SERIOUS COMFORT FOOD! So, if you haven't tried it.. you should.