We made two variations of this pie.. both are tasty. This crust is so different than I usually make. I love it!
INGREDIENTS
apple
cinnamon
strawberries or raspberries
1 c raw cashew meal (you could also use almond or your favorite nut)
1/2 c dates
dash water
DIRECTIONS
To make the raw nut meal simply blend your 1 c nuts in a coffee grinder or similar. You want it to be a fine powder.
Then, add the nut meal to the dates in a food processor. Blend until smooth. Add a little water as needed to make it mix.
I used two small cake pans but you could also make a thinner pie crust in a large pie pan. Line with wax paper for easy removal when you're done.
Slice your fruit and add a little agave nectar and cinnamon, if you like. Let them soak in a bowl while you make the crust.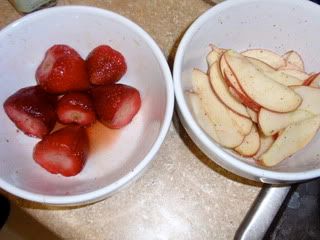 Put your nut meal dough into the pie pans (that you've lined with wax paper) and layer with the fruit: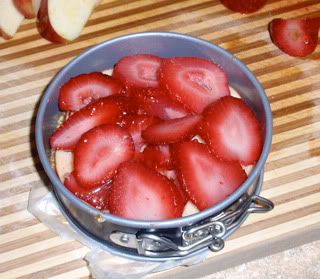 VERSION 1
Pour the fruit juice from the bowls over the pie if you want a fruity, sweet sauce. It's great!
VERSION 2
For chocolate-lovers, just make an easy chocolate sauce!
Sauce ingredients: 2 T agave nectar, 1 T olive oil and 1-2 T cacao. Mix by hand and pour over the pie.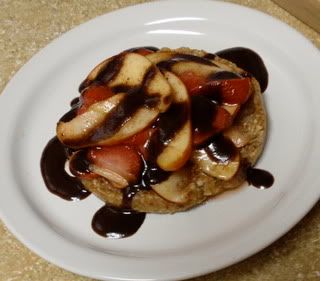 NOTE: The crust is even better the second day! So, if you have leftover pie crust just put it into the pie pan, cover with suran wrap and place in the fridge. It'll be ready for you the next day.