Ingredients:
Tofu or seitan, your choice
bean sprouts
Whatever veggies you have lying around: carrots, celery, new potatoes, tomato, cabbage, etc
veggie bouillon + cayenne + your favorite spices
optional: cilantro or oregano or basil
Directions:
Slice your veggies: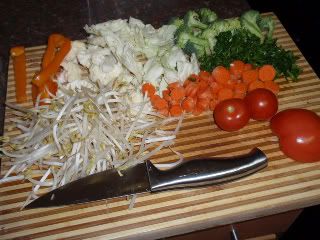 Press the water out of your tofu if using it. Then, saute your tofu or seitan with olive oil, a little soy sauce and your favorite spices: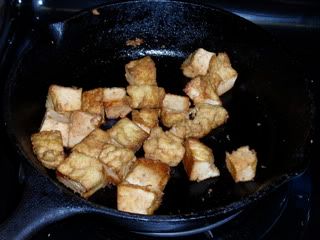 While your tofu or seitan is cooking, start a pot of water boiling. Add the bouillon and your spices. I used cayenne, to give it a kick. Add garlic if you want. Oregano or basil is great, too. Then, add your hardest veggies first: potatoes, carrots, etc. Let them cook for up to 10 minutes. Then add your other veggies that won't need as long to cook. In about five minutes, you're done!
Put sprouts in each bowl. Then, add a few cubes of sauteed tofu. Pour broth and veggies into each bowl. YUM!
Enjoy: