I have to admit 'living bread' is not the easiest thing I've uncooked.. but it's not the hardest, either. It was actually much easier than I thought! Plus, I've got enough extra sprouted kamut and spelt that I can tweek the recipe tomorrow and make another batch after this one is finished (in about 10 hours.)
Simply speaking, living breads are made of sprouted (living) seeds along with spices and most-likely, a juice or two. I started with the 'real toast' recipe from 'RAW the uncook book' and changed only a few minor things. We'll see how it turns out!
In case you're wondering, I don't have any fancy kitchen equipment - except for my Excalibur 9-tray dehydrator that we splurged on a few weeks ago. This experience has definitely taught me that I need more than a tiny blender. Also, a juicer will come in handy in this kitchen... BUT I'm not going to go appliance-crazy and buy anything and everything I want. I've made a commitment to only purchasing 1 new kitchen appliance a month (at most) until I have the things I want. They don't even need to be new!
Kitchen appliance wish list:
1) Sturdy blender
2) Large-capacity juicer
3) Food processor
Right now my eyes are burning from the onions I'm dehydrating. It's permeating the entire house! You know, when I dehydrated and ground fresh jalapenoes the other day it wasn't even half this bad. I did sneeze a lot. But this onion smell is making my eyes burn! (And I can't even smell the pineapple or toast in the dehydrator. Only the onions. Yuck!)
Okay.. so far, my living toast/bread recipe includes:
Juice of 2 oranges, 2 lemons and 1 lime equal to 1.5 cups
1.5 c sprouted kamut
1 c sprouted spelt
1/2 c fresh cilantro (because I have this on hand)
1/2 c dried parsley (because I have this on hand)
1 t chili powder
1 t jalapeno
1 t paprika
1 t kelp granules
BLEND above ingredients. Then, add the following by hand:
1/2 c sprouted kamut
1 c flax seed
Before you ask - yes, I hand squeezed the oranges, lemons and lime. See! It actually didn't take very long, either.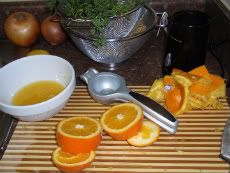 Then, I formed the "dough" into pieces of bread. I only made one batch, which looks to be about 12 pieces. Once I have the recipe down I'll probably quadruple the recipe at once and fill the dehydrator. The book says it'll last about a month, so it'll be easier if I just make a huge batch every now and then.
When you're cooking 'living foods' or raw foods, it's best to take advantage of the foods you can actually make a lot of and keep that on hand.. because you're always cooking with fresh fruits and veggies.. and that takes time! (But it's worth every minute!) Plus, we enjoy the time together.
I'll let you know how it turns out!