My husband is always saying things are better fried than, well, not fried. I just don't buy it! Some things are great fried: tofu, chips, yes. But some things are great even if they're not fried - and french fries are one of them! So, last night I baked our black bean burgers along with (my personal favorite) sweet and red potato fries!
Preheat your oven to 375. Cut potatoes first, they take longer to cook. Throw them into the oven and make your black bean patties. You'll cook them together.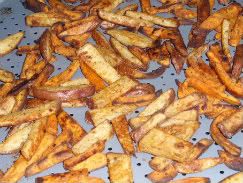 The best sweet and red potato fries you'll ever have!
2 med new potatoes
1 large or 2 med sweet potatoes
2T olive oil
spices: chili powder, red pepper, pepper, oregano (use the spices to match your meal!)
Peel sweet potatoes. Do not peel new potatoes. Slice quickly. Put into gallon ziplock bag or reusable container with lid. Pour in olive oil and spices. SHAKE! Once coated, put onto baking sheet and into the oven. Set timer for 15 minutes. You'll check on the potatoes and flip them every 15 minutes until done. This usually takes about 45 minutes.
Now move onto the burgers:
Baked black bean burgers
1 can black beans
1/4 - 1/2 cup wheat germ (or you could use wheat flour or gluten)
dash of soy milk, lemon or lime juice or water (as needed)
spices: oregano, rosemary, chili powder, red pepper, garlic
Rinse beans and pour into bowl. Add wheat, spices and mash with a fork. That's it! You don't want them runny like refried beans and you don't want them whole, either. Add a little moisture if it's needed. I used a bunch of red pepper, rosemary and oregano and a touch of chili powder and garlic. Form into patties... one can will make 3 black bean patties. You can see we had leftover vegan cheese that I threw on top of the burgers when they were almost done.
Put patties into oven. Continue checking and flipping patties and fries every 15 minutes. If you have chreese, nutritional yeast sauce or vegan cheese, you'll want to put it on top of the burger for the last 5 minutes on broil. Voila! You're done!