This one is a work in progress but I really want to experiment with nut meats.
Experiment #1:
I used romaine lettuce for the wrap. Too bad my sprouts weren't completely sprouted.. they would've been great in this!
Nut meat ingredients:
1/4 cup each: pumpkin, sunflower seeds and walnuts
1/2 yellow bell pepper
1/2 head broccoli
2 sun-dried tomatoes, soaked (discard water)
1/4 fresh tomato
2 leaves of kale
Juice of 1/2-1 small lime (I included 1/4 of the meat as well)
1 tsp each: nama shoyu, cayenne, garlic, tumeric, sea salt
I put the nuts into the processor first but I don't know that this was necessary. Maybe if I add them in at the same time as the veggies they will crush as the same rate.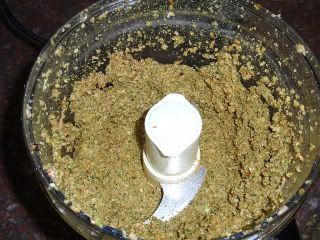 Or, if you process it as much as I did it makes a great spread for lettuce wraps or sandwiches but makes a great veggie dip, too! If you want it crunchier or more like the raw tacos, just pulse it or make sure you don't over process.
...finished product pictures to follow...