This was the easiest, freshest, sweetest cake I've made to date. I had to take it away from Tyler so he wouldn't eat it all in one night!
Ingredient list
Crust:
1 1/2 c almonds
3/4 c dates
Topping:
Fresh pineapple
Fresh cherries
Glaze:
Optional - easily made with extra pineapple juice, dates and cherries.
Instructions
TOPPING
Fresh pineapples are cheap in the summer, so you should be eating them all summer long! Turn them into smoothies, juices, eat them fresh or add them to other desserts.
When you get home, turn your pineapple upside down for at least a half hour so the sugars in the pineapple will spread throughout the fruit before you cut it. Now, you'll want to remove the stem and about an inch off the top and bottom of the fruit. Now slice off the peel and remove any hard spots that remain on the fruit. **NOTE: Save the extra pineapple you cut off that isn't directly attached to the rind. You'll want to squeeze the juice from the meat into a bowl. Save this juice to soak your dates. Slice into rings (or however you prefer).
Wash, slice and remove the seeds from your fresh cherries. Set aside.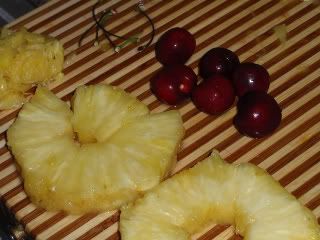 If you're making a glaze, place a few dates in the pineapple juice to soak before blending.
Dates soaking in pineapple juice: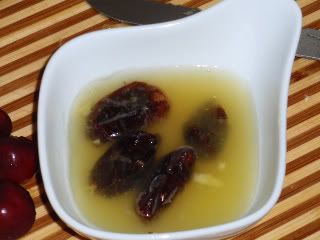 CRUST
Throw the nuts and dates into your food processor. Blend until small but slightly chunky.
You can press this into a springform pan, individual plates or whatever container you plan to keep the cake in (in the fridge.) I used a simple plastic container with a lid. Now place pineapple slices across entire cake. You can add as many sliced fresh cherries as you like.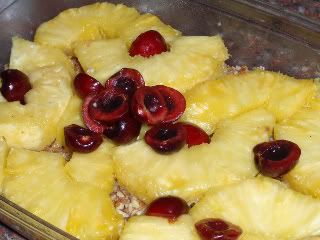 Before serving, blend your glaze (add water, orange juice, squeeze of lemon or agave nectar as needed to blend smoothly.) Pour this onto each serving, rather than on top of the entire cake. It's beautiful AND tastes amazing, too!
Serve without glaze:
Or with glaze: