The brownie recipe was taken from www.therawdessert.com - I thought it was excellent! However, I changed the frosting recipe and gave it a berry flavor, to compliment the fresh strawberries on the side.
Serves 2 for several days!
For the brownie bites
1 c almonds
1 c pecans
1/3 cups Agave
1/4 cups Cacao
Pinch of quality salt
For the frosting
1 cups Cashews
3/4-1 tsp Vanilla
1/8-1/4 cups Agave
1/2 cup frozen berries
up to 1/8 cup water, as necessary
Make the frosting first, so you can put it in the fridge for a few minutes to thicken.
Frosting instructions:
Add cashews to food processor and blend until a fine powder. This is very important! Then add all other ingredients (minus the water.) Blend. Add a little water at a time, to give it a creamy consistency. Blend, blend, blend. I used blueberries and strawberries in my frosting, so it came out purple. Just use whatever berries or fruit you'll be serving on the side (the juicier the fruit, the less water you will have to add. Keep that in mind!)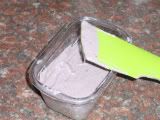 Put the frosting in the fridge to thicken while you make the brownies. They're easy!
Brownie instructions:
Put the almonds and cashews in the blender. Blend until they become very tiny or even powdery. Now add your dry ingredients and blend a few times. Now add the wet ingredients and blend until it's got a sticky consistency.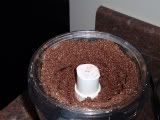 Now, just form your cocoa mixture into brownies, whatever shape or size you desire. You can put these in the fridge if you aren't serving them now. Or, you can take your cooled frosting out of the fridge, top the brownies and serve!
Experiment with different fruit flavors. The creamier you get the frosting, the better the presentation. I don't have fancy icing equipment so I just slather it on with a butter knife.. but you can get as fancy as you want. Have fun with it!