This week we're trying Ani Phyo's pates and cheezes.. and yesterdays was GREAT. It's very Italian. I would like to try this one on a raw pizza, if I can ever figure out how to make one. :)
So, all I did was make a cheezy lettuce wrap with sliced tomato and avocado: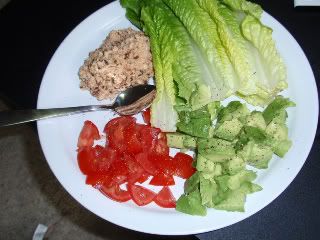 This recipe made extra and would feed 2-4 people, depending on how many other things you fill the wrap with.
Ingredients:
1 clove garlic
1/2 t sea salt
1 c Brazil nuts
juice 1 lemon
1/4+ cup water (or enough to make smooth)
1/2 c sun dried tomato, chopped
I didn't follow the directions, so I made a pretty chunky cheeze - that was great in lettuce wraps. Next time I'll make it smother for a pizza or sauce for noodles.
Basically, I threw it all the ingredients into the blender and added enough water for it to blend into a chunky cheeze.
If you want a smoother version, Ani Phyo's directions say to powder the nuts before adding to the food processor. And blend everything except the tomatoes. Then, when your cheeze is smooth as you want just hand-mix in the tomatoes.
*Most of our meals are simple like this. And you'll be amazed at how different each wrap tastes, even though you're not changing much. It's so simple and YUMMY.