Who doesn't want a caramel apple??? As a vegan, I'm never really tempted when we walk past a sweet shop because in general, especially where we live now, there is never anything vegan. But as a date fanatic I really wanted to find new ways to enjoy them every day. That's how the caramel apple experiment began!
This is a great, fall treat. Plus, this batch (which I thought would be just enough for the 2 of us) actually lasted a lot longer. Will keep in the fridge for 3 days.
Serves 2, several times
INGREDIENTS
1 c dates, soaked a few hours
1/4-1/3 c raw agave syrup or maple syrup
1/4 t maca (optional)
pinch salt
1/2-1 t vanilla (preference)
I put the dates into my little blender, pressed them down and filled them with water. (I was only going to soak them for an hour but I forgot about them!.. and they ended up soaking for a few hours.)
Generally, the softer your dates are the creamier your dessert will be. And if you're like me and you don't have a high-powered blender like a Vita-mix, you have to make sure your ingredients are soaked through before blending.
So, a few hours later I made the caramel by pouring out the soak water and adding my ingredients. Then I blended until smooth. This little blender is AMAZING! We use it for everything now because our blender, which we bought at a local kitchen shop, doesn't even compare.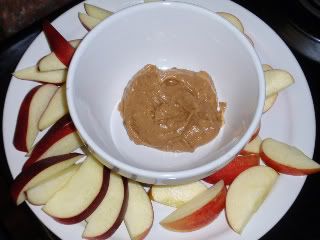 We served with our favorite apples - some local gala and store-bought red delicious. I was ready for dessert immediately so I served it right out of the blender. That meant our caramel wasn't cold. It's still great, though! So it's your choice.. serve immediately or put in the fridge to cool first.
Optional: this batch of caramel made enough for 2 desserts for us to share and I'll be finishing it today by myself. To mix it up we made a batch of raw chocolate syrup and poured it over the caramel last night. WOW! Chocolate-caramel apples?? Yes!.. they are rich and fantastic without making you feel over-sugared or heavy.