Well, the presentation is beautiful! Yes, the pie is absolutely raw - but the topping is not. Those are lingonberries. I just love lingonberries!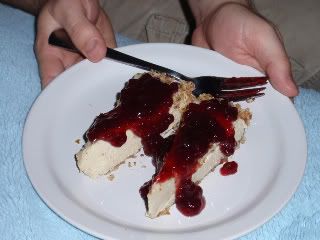 The texture is absolutely perfect. And it's perfect straight out of the freezer. Just be sure to cover the pie, rather than leaving it in the springform pan. Usually I slice my pies and place them in an airtight container.. then they're ready all the time!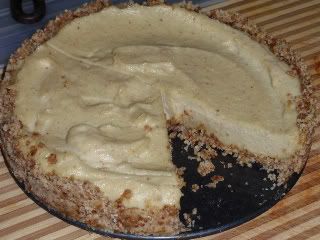 As with regular ol' cheesecake, the raw version gets better with age. So, I definitely suggest making it at least one day in advance. However, here are a few things I'll change for my next batch:
1. I bought acidophilus yesterday. I'll add it to the cheesecake mixture and let it sit for a few hours before freezing. Honestly, this cheesecake wasn't sour enough for me. But the acidophilus will ferment the mixture.. giving it that wonderful, strong cheesecake flavor. I'll post the result for sure.
2. Use a blender for the cheesecake (not the crust,) instead of the food processor.
This cheesecake was almost perfect!.. but with these minor changes, I'm certain it will be even better.
If you are planning to make a raw dessert, this one is easier than you might think. Give it a try! You won't regret it.