Most of us transitioning to raw have thought about the costs of doing so. Will it be too expensive? Exactly how much will it cost? If you're like us, when you look in your cabinets you still have flour, rice and all of the other foods you used to rely on, right?
Well, if you're going to transition to having more than just the random raw dessert here and there, you'll need to start making a real commitment. You don't have to do it all at once.. but a little at a time. However, you know that if you don't make raw food ingredients easily available, you won't use them. Right?
I used to keep these containers filled with rice, cereals and other goods.. but now they're my raw seed and nut containers. Period.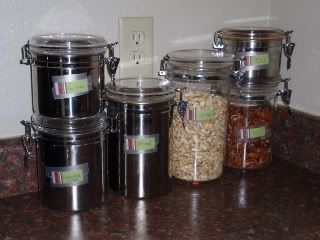 Whenever we want raw tacos.. I know where the ingredients are. And for those amazing raw desserts, you'll always need nuts, right? Well, organize your kitchen this way and you'll be able to make anything your heart desires!
Okay.. you're probably asking how much this cost. Well, I'll tell you.. these packages were about $38. That's not much, right? Especially when you consider that these are the main ingredients in SO many dishes.. and we only have to refill our containers about once a month or every 3 weeks. Just think of how much your regular cooked food actually costs now...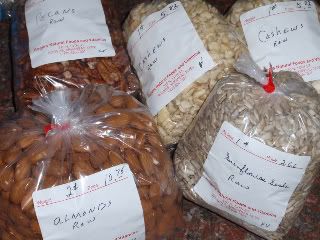 You can see I get between 1-2 lbs at a time of our favorite nuts and seeds. We actually haven't had to refill our supplies in quite a while! And we use these all the time. I'm always adding raw nuts to salads, making desserts, raw snack bars for Tyler to take to work and we make a few nut meats, too. And yet these nuts seem to last forever!
We keep several cups of flaxseed on hand all the time, too. We keep about 1-2 cups of ground flaxseed in the fridge, so it's there when we need it. And we do use it all the time! You can buy it already ground or go the cheap way (like us) and purchase whole seeds that you grind in your coffee grinder as needed.
... needless to say, I'd suggest that you start designating a part of your counter and containers specifically for your raw foods.
The more you see them, the more you'll want to use them!